Top 10 Popular Trekking Destinations in Nepal
Some of the world's most breathtaking hikes may be found in Nepal. In terms of adventure, spiritual renewal, and cross-cultural contacts, Nepal tops the list. Hiking, mountaineering, paddling, rafting, and jungle safaris are just a few of the activities that may be done in Nepal. If you're interested in participating in ethnic or cultural festivities, this country's unique landscapes will provide you with the most memorable experiences.
Trekking in the Nepalese Himalayas is a spectacular experience because of the varied terrain. It's unreasonable to single out one trek in Nepal as the greatest in the country because each of these roads is unique and best taken in its own manner.
It's possible to narrow down the ideal hikes for you based on their characteristics and amenities. The optimal journey for a person is determined by the degree of difficulty they choose. Aside from that, consider how many days you plan to dedicate to hiking. Budget and trekking style play a factor in determining the type of trip you choose. The top ten hikes in Nepal that are also scenic, culturally significant, and reasonably priced are listed below.
1.Everest Base camp Trekking: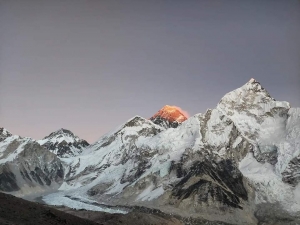 The Everest Base Camp Trek is one of Nepal's most popular and picturesque treks. The Sagarmatha area of Nepal is a popular walking destination for visitors who come to the country to take in the stunning mountain scenery. The journey begins at Lukla, which can be reached by plane from Kathmandu.
In addition to the traditional Sherpa way of life and ancient monasteries. Your hikes will be made more exciting by the numerous glaciers, icicles, and stunning scenery that you'll see along the way. Helicopters are another option for getting you to your destination. For individuals who don't want to hike but yet want to view Everest, the Everest Helicopter trip is ideal.
Overview:
Maximum height: 5550 meters above sea level
Starting : Lukla Airport
Required Permits: Khumbu Rural Permit & Sagarmatha National Park Permit
Best Season: September- November, March-May
Duration: 10-20 days
Trekking difficulty: Moderate
2.Annapurna Base Camp Trekking: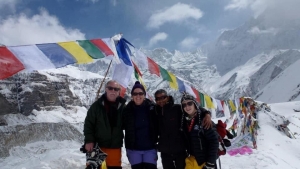 Annapurna Base Camp Trekking is the second popular trekking in Nepal after Everest Base Camp trekking, situated in the elevation of (4,130m) provides you a life time experience with good view white mountains, beautiful landscape, climates and cultural villages with ethnic group Gurung and Magar community. The diverse terrain and the communities with varieties of culture, religious, traditions makes this area more popular trekking.
Annapurna Region lies  40 km north from Pokhara. Annapurna Base Camp is also known as Annapurna Sanctuary Trek you walk inside the Annapurna Conservation area which is very rich in Flora, Fauna, varieties of vegetations and wild life. Peoples' believe that Annapurna Sanctuary is home of Hindu and Buddhist God. In Nepali language  "Anna" means food and "Purna" means God.
Overview:
Maximum height: 4130 meters above sea level
Starting : Birethati
Best Season: September- November, March-May
Duration: 7-10-15 days
Trekking difficulty: Moderate
Best Season: March-May, and October- November
Trek Permits: Yes,(TIMS, ACAP)
3.Annapurna Circuit Trekking: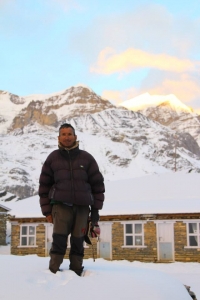 A magnificent journey known as the Annapurna Circuit Trek may be found at the foothills of the entire Annapurna range. After a few hours of hiking, you'll arrive in the Alpine woodlands. We'll wrap things up amid the desolate landscapes of Manang and Mustang. As an added benefit, the whole Annapurna region can be seen from virtually every vantage point along the way. As many memories as you like may be made on this walk, which provides a wide variety of routes.
Overview:
Maximum height: 5550 meters above sea level
Starting : Chame
Trek Restrictions: No
Best Season: September- November, March-May
Duration: 10-20 days
Trekking difficulty: Moderate
Best Season: March-May, and October- November
Trek Restrictions: No
Trek Permits: TIMS, ACAP
 4.Ghorepani Poonhill Trekking: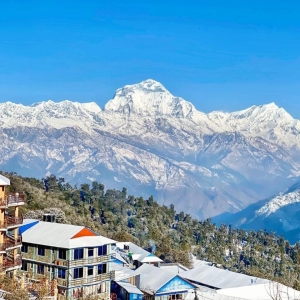 The climb offers a breathtaking view that is enjoyed by adventurers looking for a challenge. The walk up Ghorepani Poon Hill is easy to moderate in difficulty. This climb in the Annapurna Sanctuary is well-liked for a variety of reasons. The Poonhill path is a good choice for an acclimatization trip if you enjoy Nepal's difficult trekking routes.
Overview:
Maximum Elevation: 3210 meters, Poonhill
Trek Duration: 3 | 5 | 7 days (Multiple Options)
Best Season: All around the year
Trek Category: Easy
Accommodation Type: Teahouse
Trek Permits: Yes(ACAP,TIMS)
5.Mardi Himal Trekking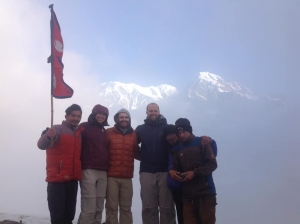 Mardi Himal is short trek located at the north west of Nepal which takes you the Mardi Himal Base Camp(4,500m). It is a new Trekking routes in Annapurna Region. This trekking offers trekkers' to an experience the majestic white snow-capped mountains, unique landscape and Flora and Fauna. This region is rich in wildlife and different vegetation. It provide opportunities from the lower hills to the alpine zones of Nepal. Mostly Day you will walk through beautiful green and Rhododendron forest with rare birds and enjoying chirming sounds of birds. You passes through many beautiful Gurung village to Mardi Himal Base Camp. From here you can see stunning view of Mount Annapurna I, Annapurna South, Mount Fishtail, Mount Himchuli, Mount Annapurna II, Mount Annapurna III and Mount Annapurna IV.
Overview:
Maximum Elevation: 5,587  meters, Mardi  Himal Base camp
Trek Duration: 8 days
Trek Category: Moderate
Accommodation Type: Teahouse
Best Season: March-May, and October- November
Trek Permits: Yes
6.Langtang Valley Trekking: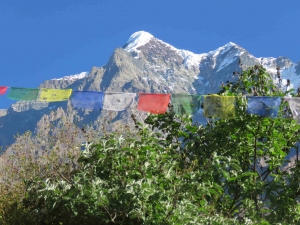 A popular trip close to Kathmandu is the Langtang Valley Trek. It takes 8 hours to drive from Kathmandu to reach Syabrubesi, where the trip begins. There are glaciers and snow-capped mountains close to Kathmandu on this hike. You pass pine trees, rocky streams, rocks, grassy meadows, and broad pastures as you continue your journey. Langtang-Ri, Langtang Himal, and Gajala Peak can all be seen from here.
Overview:
Maximum Elevation: 4,984 meters, Tserko Ri
Trek Duration: 8 days
Trek Category: Moderate
Accommodation Type: Teahouse
Best Season: March-May, and October- November
Trek Permits: Yes
7.Gokyo Lake Trekking: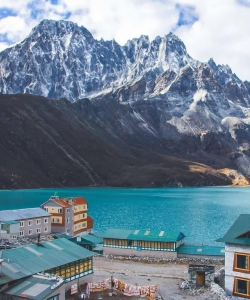 In the Gokyo valley, glaciers and icy lakes are found in abundance. The route winds through rhododendron and oak woodlands, which are home to a variety of flora and wildlife. The frozen waterfalls are fascinating. A variety of high-altitude wetlands and lakes are preserved throughout the valley. Tibetan-Buddhists-Sherpas live in peace in the village, which is full of ancient monasteries and their own traditions.
Overview:
Maximum Elevation: 5357 meters, Gokyo Ri
Trek Duration: 12 days
Best Season: March-May, and October- November
Trek Category: Difficult
Accommodation Type: Teahouse
Trek Permits: Yes
Trek Restrictions: Khumbu Pasang Lhamu Rural Municipality Entrance Permit
8.Manaslu Circuit Trekking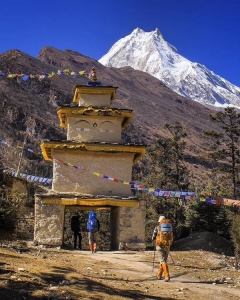 Enriching and inspiring, the Manaslu Circuit Trek has a stunning sequence of rainforests that lead into the wild. It's one of Nepal's most well-known and physically taxing treks.
The Manaslu Circuit offers views of some of the highest mountains in the world, including Manaslu, Himlung Himal, Annapurna II Nemjung, and Gyaji Kang. The unadulterated thrill of venturing out into the bush and far from civilization can only be found on an isolated expedition.
In addition, there are no words to describe the breathtaking views of Nepal's eight highest mountains.
Overview:
Maximum Elevation: 5,160 meters, Larkya Pass
Trek Duration: 12-14-18 days
Best Season: March to May, September to December
Trek Category: Difficult
Accommodation Type: Tea house
Trek Permits: Yes,(TIMS, MCAP, ACAP)
9.Upper Mustang Trekking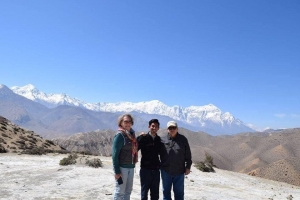 The Upper Mustang Trek in Nepal's Trans-Himalayan area is a once-in-a-lifetime adventure. You'll be able to see Nilgiri, Annapurna, Dhaulagiri, and other Himalayan peaks as you go. Leaving Jomsom, the walk heads into Nepal's rain shadow region's treeless interior. The route is based on an old salt trade route. Barley fields, historic Gompas, and shortens, as well as prayer flag-waving white dwellings, make this a beautiful location.
Overview:
Maximum Elevation: 3,810 meters, Dhakmar
Trek Duration:10- 14 days
Best Season: March to December
Trek Category: Moderate to difficult
Accommodation Type: Teahouse
Trek Permits: Yes,(ACAP, Mustang Special Permit)
10.Rara Lake Trekking: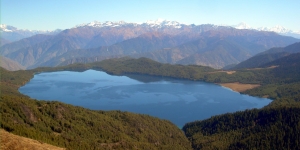 During the Rara Lake walk, you'll visit rural villages in the districts of Jumla and Mugu in Nepal. The lake, often known as the "Queen of Lakes," is a wonderful place to relax and enjoy yourself.
In the Trans-Himalayan mountains, the terrain is rugged and beautiful. A Buddhist Stupa-famous town known as Mincha may be found on the way. The hike begins at Jumla, which can be reached via airplane from Nepalgunj.
Overview:
Maximum Elevation: 3,710 meters
Trek Duration: 10-11 days
Trek Category: Difficult
Accommodation Type: Camping
Best Season: March- December
Trek Restrictions: Yes
Trek Permits: RNPEP
When is the ideal season for trekking in Nepal?
The optimal time to hike in Nepal is difficult to determine. The summer monsoon (June to September) gives development and freshness, but hikers should avoid it. Autumn (September to the end of November) and spring (February to mid-April) are the finest times to visit: the monsoon washes away the bugs and dust in autumn, while the longer, warmer days of spring allow for more exploration time. While there isn't much snow in Nepal during the winter months of December through January, the weather is cold. Dress warmly because you'll be one of the few people in the mountains.
The monsoon season ends in October and November, and early-season trekkers arrive to enjoy the bright skies and temperatures that aren't too cold. Annapurna Circuit daytime temperatures seldom fall below 15°C, and nighttime temperatures rarely fall below zero in the lower areas of the circuit. As you gain elevation, the temperature drops, especially at Everest Base Camp.
During the months of December and February, the weather is the coldest. Although heavy snowfall on the Annapurna Circuit limits several routes, many trails at lower elevations are available year-round. Keep in mind that daytime temperatures in Nepal can reach a shiver-inducing one °C and nighttime lows of -10°C. The less expensive hotels in Kathmandu sometimes do not have heating, so bring some warm clothes.
Rhododendrons blossom in March and April, illuminating the Ghorepani Poon Hill trek's mountainside in a riot of pink and white. Tracks may be closed due to avalanche activity as the temperature rises.
In June, the rainy season returns. Leeches and muck are widespread, and landslides often occur in the highlands. That being said, the season isn't over yet. Because there is more rain at night, the mornings are generally fresh and gorgeous. If you want to avoid the rain, stay away from Nepal's well-traveled routes and head to the dry Himalayan areas like Manang, Mustang, or Dolpa.